Abroad Advice Educational Consultancy Services
All American Institute of Medical Sciences (AAIMS)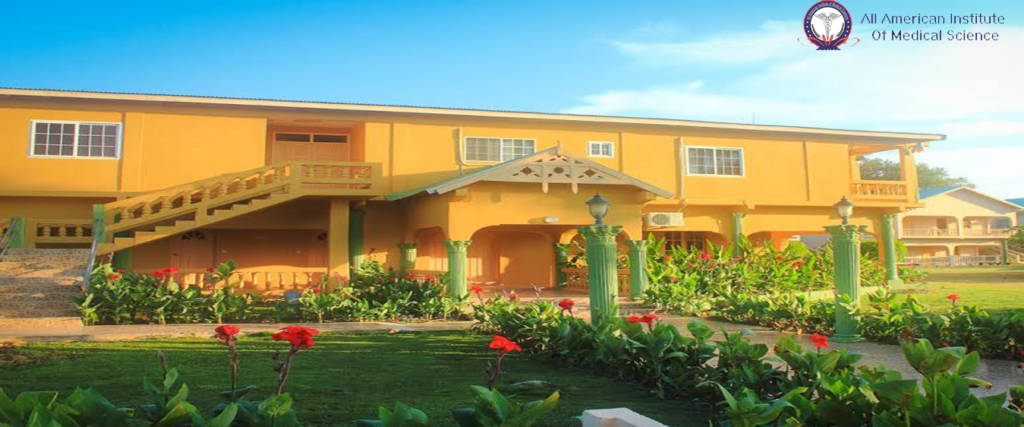 All American Institute of Medical Sciences is an offshore private medical school located in the former Invercauld Great House in the town of Black River, Jamaica, which began operations in 2009, with its offshore office located in villa park Illinois. It was chartered by the Government of Jamaica in 2011 and provisionally accredited by the Caribbean Accreditation Authority for Education in Medicine and other Health Professions (CAAM-HP) in 2010 with an annual renewal to 2015. The university began classes in 2011 at its Jamaica campus and graduated its first class in 2014.
Admissions Open for Intake-2020
| | |
| --- | --- |
| | M.D. Physician (Undergraduate program) |
| | |
| | |
| | |
| | |
| | |
| | |
It is said that "Health is Wealth" and the Medical Profession is the noblest profession in the world. The core values attributed to maintaining the medical profession constitutes the quality of health professionals generated and their healthcare delivery in the community. AAIMS strongly believes through its mission and vision it will maintain these core values.
To coordinate resources necessary to deliver excellent medical education leading to generating physicians that will serve the community, and to form lifelong learners committed to excellence, faith, leadership and service.
Attain an international reputation as an outstanding medical institute distinguished by excellence, leadership, research and innovation in the quality of our teaching, in student learning and achievement, and in engagement with our communities.
All American Institute of Medical Sciences (AAIMS) has been certified by all major international medical school accrediting bodies and authorities. Students can rest assured that their qualifications will be accepted internationally. AAIMS is accredited/ listed by following authorities:
The Ministry of Education, Jamaica
AAIMS received Charter to establish and operate school of medical sciences from the Government of Jamaica in May 2009. Graduates of AAIMS are eligible to apply for practice medicine in Jamaica upon successfully registering with the Medical Council of Jamaica.
The Caribbean Accreditation Authority for Education in Medicine and other Health Professions (CAAM-HP).
AAIMS has been granted initial provisional accreditation status by the Caribbean Accreditation Authority for Education in Medicine and Other Health Professions, the accrediting body for M.D. degree programs in the Caribbean Community.
Accreditation standards require AAIMS to address five specific areas in the development phase: Institutional Setting, Educational program, students, faculty and resources. The accreditation process involves several steps, the last of which is completed in the fourth year of enrollment of the inaugural class. Full accreditation of the medical school at AAIMS is expected in 2015.
AAIMS is registered by the University Council of Jamaica, as a Tertiary Level Institute.
AAIMS is listed in the World Directory of Medical Schools.
The World Directory of Medical Schools has been developed through a partnership between the World Federation for Medical Education (WFME) and the Foundation for Advancement of International Medical Education and Research (FAIMER) in collaboration with the World Health Organization and the University of Copenhagen.
AAIMS is listed in International Medical Education Directory (IMED). Students and graduates of AAIMS are eligible to sit for USMLE, in fulfillment of the ECFMG Certification requirements for applying into the USA residency programs.
IMED is maintained by Foundation for the Advancement of International Medical Education and Research (FAIMER) with information made available by Educational Commission for Foreign Medical Graduates (ECFMG), USA. ECFMG Certification is a requirement for international medical graduates seeking unrestricted license to practice medicine in the USA. To be certified by ECFMG, international medical graduates (IMGs) must, among other requirements, meet certain medical education credential requirements. All IMGs must have been awarded credit for at least four credit years (academic years for which credit has been given toward completion of the medical curriculum) by a medical school that is listed in the IMED.
World Health Organization (WHO)/AVICENNA Directories: AAIMS is listed in World Health Organization/AVICENNA Global Directories of Education Institutions for Health Professions. The AVICENNA Directories is a publicly accessible database of schools, colleges, and universities for education of academic professions in health. For medical educational institutions, this replaces the World Directory of Medical Schools published by WHO since 1953.
AAIMS IMED listing is recognized by the Medical Council of Canada (MCC) for certification and eligibility for medical licensure in Canada. Graduates of AAIMS are eligible to sit for Medical Council of Canada Evaluating Examination (MCCEE) and Medical Council of Canada Qualifying Examinations (MCCQE).
AAIMS Campus is located in the town of Black River, the capital of the parish of St Elizabeth, Jamaica. Established close to the banks of the river after which it is named, the town is one of the oldest in the island. A bustling port in the 19th century, Black River was, at that time, one of Jamaica's grandest and most modern towns. It was the first to receive electricity and to have motor cars and one of the first to have telephones. The campus is the site of historic Invercauld Great House, situated on 5 acres of immaculately landscaped grounds, overlooking the Caribbean Sea.
Today, the town is a quaint, serene place where Community tourism is highly promoted. As a result, the parish has a very hospitable culture for hosting visitors. Students and their regular guests will find the community ready to provide accommodation, cultural activities, socialization, shopping and entertainment.
Students will find a safe, secure and cost effective environment in which to study, while the south coast of the island provides an interesting variety of stimulating leisure activities.
Safety and Security The safety and security of our students are taken very seriously. All buildings have electronic access control swipe card systems and are well-equipped with the necessary fire detection equipment and alarms. In addition, the school has dedicated 24/7 security team guarding campus as well as onsite cameras connected to the observatory room with electronic security systems. All staff and students are provided with a private ID and access control swipe card to be used on entering and exiting the premises.
4-year MD program for students who have premed requisites.
Starts with five 16-week semesters in Jamaica and sixth semester in Jamaica/USA. These first 2 years of curriculum focuses on courses in Basic Sciences and their application to clinical medicine. Semesters begin in January, May and September, and students can begin their studies in any semester. In addition to didactic lectures, lab work and problem based learning; students make community and hospital visits, practice history taking and physical examinations with patients in Clinical Simulation Training rooms on our basic sciences campus. Upon successfully completing five semesters, students are given intensive training to pass US Medical Licensing Examination (USMLE Step 1) in our sixth semester with an option to receive this training at our Jamaica campus or USA. Students are required to PASS USMLE Step 1 to enter into third year Clinical Sciences of MD Program.
Clinical Sciences program will take place in years 3 and 4. In these years students will get training in the care and study of patients in Hospitals. The training comprises 96 weeks of clinical rotation in both core and elective subjects. Once required clinical rotations are completed, students are required to PASS USMLE Step 2CK and CS exams. After complete year 3 and 4, students graduate with MD degree and successfully passing USMLE Step 1, 2CK and CS graduates receive ECFMG certification that makes them eligible to participate in the Residency Matching Process in the USA.
Basic Sciences (MD Program)
The students who are admitted for the 4 year MD program attend the first two years Basic Sciences in Jamaica by attending didactic lectures, laboratory exercises, and community health and hospital visits. The two year program in Jamaica spans six (6) semesters as follows:
Clinical Sciences (MD Program):
The period of clinical clerkship will take place in years 3 and 4. During this period, students will become directly involved in the care and study of patients. The training comprises 80 weeks of clinical rotations in both core and elective departments.
Note: The elective rotations will revolve around the recommended areas: Dermatology, Family medicine, Radiology, Pathology, Ophthalmology, Infectious diseases, Neurology, Oncology, Cardiology, Nephrology, Emergency medicine, Rheumatology, Orthopedic surgery, Endocrinology, Gerontology, Anesthesiology, Allergy and Immunology.
Why choose Abroad Advice for MBBS ?
We at Abroad Advice are one of the best record holder education consultants in India. We have a team of expert consultants who offer well-researched assistance and comprehensive counselling for you to make a bright career in the field of Medicine. Abroad Advice has several centers across the subcontinent, and each one follows the uniformly structured way of providing excellent results that ensure a satisfactory experience for our valuable clients. We at Abroad Advice have the experience and resources to ensure you get access to everything that you may require for an MBBS admission in one of the top global universities. Team Abroad Advice works with the applicants like a family and supports them at every step. Years of experience, a skilled and dedicated team and access to a multitude of resources have enabled us to assist hundreds of Indian students to get admission in the top medical colleges in the various European countries.
Advantages of Consulting Abroad Advice