Abroad Advice Educational Consultancy Services
Spartan Health Sciences University, Vieux Fort, St Lucia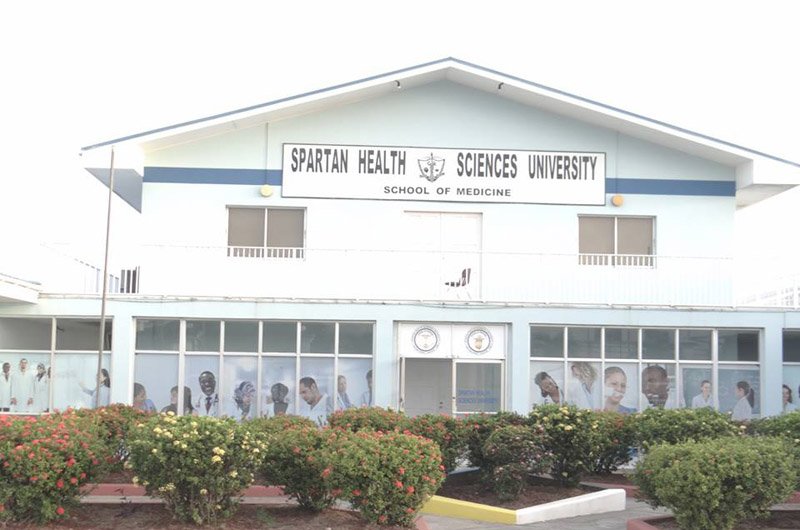 Spartan Health Sciences University, School of Medicine is an independent medical institution established on January 7, 1980 and is located in the heart of the Caribbean Islands, in the southern district (Vieux Fort) of St. Lucia, West Indies (W.I.).
Spartan Health Sciences University is accredited by The St. Lucia Medical Schools Accreditation and Monitoring Committee set by the Government of St. Lucia and Caribbean Accreditation Authority for Education in Medicine and Other Health Professions-CAAM-HP. "PROVISIONAL".
The University is located in Vieux-Fort on a spacious property. It has a spectacular view of the surrounding green landscape, the Caribbean Sea and the island of St. Vincent. The facilities have continuously evolved into a modern multi-million dollar medical school complex. Classrooms are large and climate- controlled for year round comfort. Students find our classrooms, laboratory, library, dining and exercise facilities exceptional. Faculty and administrative offices are located within the campus allowing students easy access to any needed assistance.
The library has a comprehensive collection of books, audio-visual aids, periodicals, and online medical journals. It is equipped with computers and wireless internet access and also has quiet areas conducive for studying. The Library is open from 6 a.m. – 11:45 p.m. daily with night transportation service. The University boasts a modern Anatomy and Histology laboratory as well as an isolated dissection room and cadaver storage facility.
Admissions Open for Intake-2020
M.D. Physician
(Undergraduate program)

USD.4700 (6 Years)/ 5500(5 Years) 1st Year

USD. 2100(6 Years) /3200(5 Years) Per Year

USD. 300(6 Years) / 425(5 Years) Per Year
The University also boasts a state of the art Human Simulation Laboratory and Skills laboratory. Here the students will experience realistic patient situations and learn how to respond to them in a safe and supportive environment.
The human Simulation lab includes high fidelity mannequins. These mannequins exhibit human physiologic functions such as blood pressure, reactive pupils, working tear ducts and heart and lung sounds. Lab participants can perform many common procedures such as starting an IV, obtaining a blood sample, inserting a bladder catheter, giving medications, treating wounds and performing surgical procedures in response to the specific case they are evaluating and treating.
The simulations provide highly realistic, hands-on experiences that help students learn and practice before interacting with actual patients. The clinical scenarios focus on the development of clinical reasoning skills, communication, leadership, teamwork, and inter professional relationships.
A variety of sports, recreation and gym facilities are available for Spartan Health Sciences University students on campus. Students are encouraged to enjoy the facilities available like table tennis, basketball, etc. The University is equipped with ancillary electricity generation equipment and 46,500-gallon water storage to ensure that infrequent power and water outages do not interrupt instruction.
The Mission of Spartan Health Sciences University School of Medicine is to train doctors of all races, nations, and for the world rather than indulgence in parochialism of medical education. Its mission is also to serve the public in general, in improving the health standards and primary health-care delivery systems in particular, of St Lucia.
The primary objective of the University is to provide qualified students with the opportunity to fulfill their lifelong ambition of serving humanity with medical education, prolongation of human life through medical care, and research.
The University strives hard to attain a high standard of education with affordable tuition fees ever since its inception. This does not in any way compromise the standard of medical education offered by this institution. Spartan Health Sciences University is dedicated to train its graduates with an excellent medical knowledge and competent skills in order to ensure that the medical profession meets the health care demands of the societies to which they belong. It is also the commitment of the University to provide its students with quality medical education.
Among Caribbean medical school programs, Spartan Health Science University (SHSU) stands out for the progressive approach they take to education. A major part of the curriculum includes extensive preparation for the United States Medical Licensing Examination (USMLE) which ensures that SHSU students are well-prepared for the exam that may ultimately decide their career. Spartan Health Sciences University made another breakthrough by incorporating the Standardized Patients (SPs) in the medical curriculum. After their basic science semesters at SHSU's Caribbean medical college in St. Lucia, students spend the remaining semesters in affiliated teaching hospitals located mainly in the USA. Spartan also offers Clinical rotations in JAMAICA, St. LUCIA & INDIA. Upon completion of post-graduate residency training, SHSU graduates become eligible for a license in many countries including the United States, United Kingdom, India, and Canada.
Abroad Advice offers the following services for students aspiring to pursue their medical dreams from Spartan Health Science University, School of Medicine
Why choose Abroad Advice for MBBS ?
We at Abroad Advice are one of the best record holder education consultants in India. We have a team of expert consultants who offer well-researched assistance and comprehensive counselling for you to make a bright career in the field of Medicine. Abroad Advice has several centers across the subcontinent, and each one follows the uniformly structured way of providing excellent results that ensure a satisfactory experience for our valuable clients. We at Abroad Advice have the experience and resources to ensure you get access to everything that you may require for an MBBS admission in one of the top global universities. Team Abroad Advice works with the applicants like a family and supports them at every step. Years of experience, a skilled and dedicated team and access to a multitude of resources have enabled us to assist hundreds of Indian students to get admission in the top medical colleges in the various European countries.
Advantages of Consulting Abroad Advice