Abroad Advice Educational Consultancy Services
Ross University School of Medicine, Bridgetown, Barbados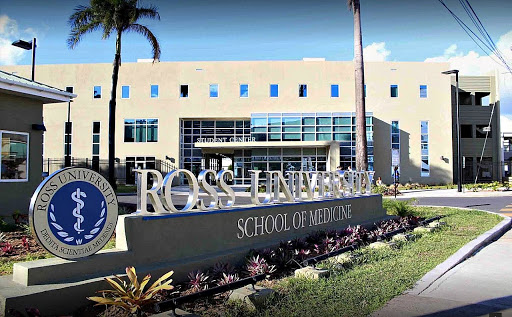 Founded in 1978, Ross University School of Medicine has been providing students with the foundation they need to pursue successful careers in medicine for over 40 years. The Ross medical school experience is "Dedita Scientiae Medendi" – dedicated to the science of healing – and we are proud of our rich tradition of preparing students for their life's work as physicians
Admissions Open for Intake-2020
M.D. Physician
(Undergraduate program)

USD.4700 (6 Years)/ 5500(5 Years) 1st Year

USD. 2100(6 Years) /3200(5 Years) Per Year

USD. 300(6 Years) / 425(5 Years) Per Year
why choose ross university school of medicine
If you're overwhelmed by all your options, you're not alone. The good news is, narrowing down your choices can be easier than you think. It all comes down to which school gives you the best combination of immersive learning experiences and focused academic support.
It's no surprise that, for most MD students, the clear choice is Ross University School of Medicine (RUSM). Below are our top reasons students choose RUSM — and when you're finished reading, be sure to visit us and learn more about our MD program.
1. Our alumni network is one of the largest in the U.S. (15,000+)
As one of the largest providers of doctors to the entire U.S. healthcare system, RUSM graduates are practicing in 954 counties, in all fifty U.S. states.
2. We have an active commitment to addressing physician diversity
Although African Americans and Latinx account for more than 31 percent of the U.S. population, they make up less than 11 percent of U.S. medical school graduates. That's not good enough. RUSM is dedicated to bucking this trend with a commitment to creating broader access and addressing physician diversity. In 2018 alone, 21% of the RUSM graduating class was African American or Latinx. We partner with Historically Black Colleges and Universities (HBCUs) and Hispanic-Serving Institutions (HSIs) across the country through our AIM's Scholar Program, creating new pathways for underrepresented minority students to attend medical school.
3. We offer flexible start dates: September, January or May
We're ready when you are. RUSM offers three session starts to allow you to start your MD when it's convenient for you and your own personal journey. Session starts are available in September, January and May.
4. Our USMLE Step 1 pass rate is 96.7%
RUSM USMLE Step 1 pass rates are in line with U.S. and Canadian medical schools. Starting with your first day at med school, RUSM gives you the hands-on training and personalized instruction you need to prepare for your boards exam. The result is an exceptionally high Step 1 pass rate, and increased confidence for students as they conquer one of the biggest challenges of their careers.
5. We have competitive first-time residency rates: 95.2% in 2019-2020
In 2020, our first-time residency rate was 95.2%. 597 current and former Ross graduates attained residencies in 2020 in 24 disciplines. This included residencies in urology, obstetrics and gynecology, ophthalmology, preventative medicine, psychiatry, radiology, surgery, plastic surgery and more. If you'd like to learn more, check out our residency records.
6. Every clinical student gets a dedicated team of advisers
We think clinicals are too important to your development as a physician for you to go it alone. That's why RUSM is the only med school that offers the Rely On Student Service (ROSS) model to support you as you progress through your rotations. You can learn more about it here, but it's essentially a support hub of advisers that assist you with everything from clinical questions to financial aid inquiries, and our students find it incredibly valuable.
7. Our clinical program covers a range of patient populations and healthcare systems
RUSM has 17 affiliation agreements with hospital systems in 10 states, as well as Puerto Rico. Because we have so many affiliations, our students are able to complete all their rotations in the same location. And that comes with all sorts of advantages — fewer costs on your end, more time to build professional relationships, and more. Perhaps most important, it gives you a consistent clinical environment as you rotate through different disciplines.
8. Our students share in our dedication to making medicine accessible
The national average of students completing their residencies in primary care hovers around 40 percent. But for RUSM alums, that number is more than double at just under 90 percent. Additionally, following graduation, 40 percent of RUSM alums choose to practice in areas with a healthcare shortage. Our students are connecting with populations where their presence makes a life-changing impact.
9. We are Title IV eligible and offer complimentary campus tours
The Office of Student Finance at RUSM is committed to helping eligible students find financial aid including student loan programs and scholarships. We're also U.S. Title IV Funding eligible (most Caribbean medical schools aren't). Before making the financial commitment, all individuals who are accepted to RUSM are invited to visit our Medical Sciences campus for a pre-orientation tour. To allow you to make the best decision without worry, RUSM covers the full cost of round-trip airfare plus two nights' hotel stay in Barbados upfront.* The pre-orientation tour is an opportunity to explore Barbados and connect with faculty and students before enrolling.
Why choose Abroad Advice for MBBS ?
We at Abroad Advice are one of the best record holder education consultants in India. We have a team of expert consultants who offer well-researched assistance and comprehensive counselling for you to make a bright career in the field of Medicine. Abroad Advice has several centers across the subcontinent, and each one follows the uniformly structured way of providing excellent results that ensure a satisfactory experience for our valuable clients. We at Abroad Advice have the experience and resources to ensure you get access to everything that you may require for an MBBS admission in one of the top global universities. Team Abroad Advice works with the applicants like a family and supports them at every step. Years of experience, a skilled and dedicated team and access to a multitude of resources have enabled us to assist hundreds of Indian students to get admission in the top medical colleges in the various European countries.
Advantages of Consulting Abroad Advice