Abroad Advice Educational Consultancy Services
Jalalabad State Medical University, Jalalabad, Kyrgyzstan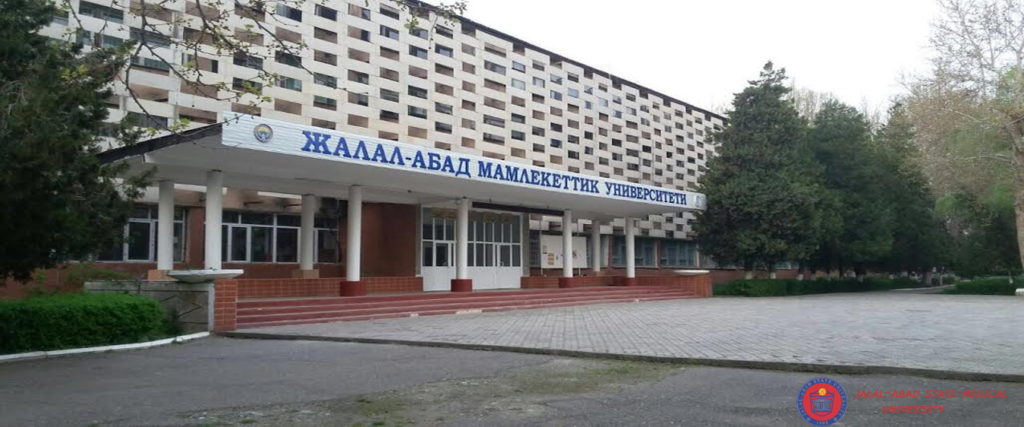 Prologue Educational Consultants sends eligible students for MBBS/MD/MS in Jalalabad and all relevant information regarding admission in MBBS in Jalalabad is as mentioned below.
The Jalalabad State Medical University came into operation just after an year Osh State University was started i.e. 1992. It is a public body institution and provides options for higher studies in several departments such as construction, energy, electronics, medical education, agriculture, etc. Going by the figures, the Jalalabd State Medical University itself has 250+ teachers including more than 10 professors cum doctors & 40+ Ph. D doctors. Several of these highly skilled docts are also members of National Academy of Science in Kyrgyz Rebublic as well as serve as academic advisors for country.
Currently, there are 4,500+ students enrolled in Jalalabad State Medical University. The university has adopted such a system which provides the following levels of training i.e Diploma, Associate Degree, Bachelor Degree, Masters Degree & Doctorate degree. The Jalalabad State Medical University offers several programs for local & foreign students which are as follows 1: General Medicine, Nursing, Computers, Physics, Mathematics, Social Sciences, Humanities, Russian Language, Kyrgyz Language, Biology, Pedagogy, Psychology, Physical Education, Ecology, Mechanics, Food Technology, Chemistry, Chemical Engineering, Water Engineering, etc.
M.D. Physician
(Undergraduate program)
The main administrative department of Jalalabad State Medical University is situated in the main campus of it. The engineering faculty is located in the city of Kara-Kul. It is a city located 176 kms. from Jalalabad and along the Jalalabad-Bishkek highway at a distance of approx 400 kms. The faculty of engineering is located at a distance of 460 kms. from Jalalabad-Bishkek highway in the city of Tash-Kumyr. The faculty of electrical engineering is located in the city of Mayluu-Suu which is 112 kms. away from Jalalabad. The city of Mayluu-Suu runs along the western foothills of famous Ferghana range on the bank of river. This city is also known as a center & hub for central Asia electric works. The faculty of technology is situated at a mere distance of 54 kms. from Jalalabad and approx 500 kms. from Bishkek in the city of Kochkor-Ata. With so many faculties & universities in Jalalabd State University, it has become the largest training & research center of Kyrgyz republic. The city of Jalalabad came into existence in 1980's and is considered the 3rd largest city of Kyrgyzstan. Being the capital of Jalalabad state, it is the economic, political & cultural of the state of Jalalabat.
Prologue Educational Consultants invites all students to come & study MBBS in Jalalabad and create a bright future for themselves as a great & skilled doctor.
If you wish to study medicine in Kyrgyz Republic, the Faculty of Medicine of Jalalabad State University will be the best choice.
Faculty of Medicine – offers the most significant study block in medicine in Kyrgyz Republic. It is the legatee of the academic base and traditions of Jalalabat State University.
Medium of instruction: English
Due to its competitive education and liberal costs of study JaSU Faculty of Medicine is becoming increasingly popular among international students. It offers a full professional education programme, so that upon the completion of studies, graduates can successfully continue their education in the selected speciality's residency programme or medicine field's Masters programme in Kyrgyz Republic or in another country of the world. Students have the opportunity to study under the guidance of knowledgeable professors from universities from Kyrgyz Republic and abroad, as well as to acquire up-to-date knowledge and skills, which are competitive in Eurasia and the world.
JaSU Faculty of Medicine has created a medicine study development plan for the next five years, which has it becoming the leading centre for medical education in the Central asian region. A world's best practice university medical study process, examination quality standards and modern teaching technology will be introduced.
Compared with the study of medicine at most Eurasian universities, studies at the JaSU Faculty of Medicine is more widely integrated into clinical practice than the others. Students gain a foundation in the profession at university clinical hospitals: at the Jalalabad provincial headquarters hospital, Jalalabad city hospital and other hospitals associated with the faculty of medicine.. They are the main treatment and medical science institutions in Jalalabad province. JaSU Faculty of Medicine departments not only coordinate student teaching in all clinical and theoretical medical disciplines, but also the cooperation between other countries' universities and scientific institutes and have become scientific schools and research centres, ensuring the professional quality of JaSU teaching staff.
Commencing from their third academic year of study, Faculty of Medicine students have the opportunity to gain a deeper knowledge of pediatrics. Placement in patient clinical care, internal diseases, surgery, obstetrics and gynecology are also included in the teaching process where theoretical knowledge will be supplemented by practical skills.
Graduates and teaching staff of the JaSU Faculty of Medicine work successfully in Kyrgyz and foreign clinics, research institutes and in international health protection organisations.
Jalal-Abad State University (JASU) is the state higher educational institute and has great experience, traditions of preparing highly qualified specialists in the area of: philology education, natural studies, medicine, electronics, electric power production, and in the fields of industry, agriculture, information technology, industry,agriculture and others. Jalal-Abad State University (JASU) has 10 faculties such as :
Currently 13000 students study at JASU, more than 700 teachers work, incl. 15 doctors of science and professors, and 116 candidates of science and docents. Producing specialists with high education in the following 54 fields and with secondary professional education in 12 fields.
The Student Council is an organization founded by the students of the JaSU in 1993. The Student Council was established to represent the rights and opinions of JaSU students.
Representatives of JaSU students as well as residency and doctoral students are included in the Student Council. They all work alongside with other universities and organizations to represent the interests of JaSU students. The Student Council co-operates with its counterparts from other universities as well as with several other student organizations.
The Student Council delegates its members to the JaSU Senate, Faculty Councils, Commission of Credit Loans and many other JaSU institutions. They can vote and exercise the right to veto. Among other social and academic activities, the Student Council also organizes Freshmen Parties,Eid parties, Holi, Dewali parties, Christmas Parties and St Valentine's Parties.
The Student Council welcomes new members and activists every year, so if you are active, energetic, and if you have great ideas and suggestions on how to improve life at the JaSU, you are welcome to join the Student Council and choose to participate in one of the many teams:
External Communication Relations Department: co-opera with other student councils and organizations outside JaSU, to attract other partners and supporters.
Academic Department: The aim is to enhance co-operation between students and the heads of Faculties, and to improve the study process.
Public Relations Department: The PR team works to formulate and represent SC's position on all matters and to promote it in social networks like Twitter, Facebook, in addition PR department takes care of the SC image.
Culture Issues: This team is responsible for all the cultural events and parties organized for our students.
Social Issues: This group deals with issues concerning student loans, scholarships and student hostels, and additionally helps to solve many other internal issues, e.g., matters concerning the library, cloakroom service, cafeteria, the copying department etc.
Sports and Health Department: Improve and provide SC and JaSU sports traditions, and to organize different sport and recreation events, take care about sportive and healthy spirit in SC and JaSU.
Finance Department: The aim is to take care about SC technical support not just in different events, but also in every day life, be rational and care about the legal side of SC actions.
Internal Communication Relations Department: The aim of this department is to promote the exchange of information among members of the SC.
Why choose Abroad Advice for MBBS ?
We at Abroad Advice are one of the best record holder education consultants in India. We have a team of expert consultants who offer well-researched assistance and comprehensive counselling for you to make a bright career in the field of Medicine. Abroad Advice has several centers across the subcontinent, and each one follows the uniformly structured way of providing excellent results that ensure a satisfactory experience for our valuable clients. We at Abroad Advice have the experience and resources to ensure you get access to everything that you may require for an MBBS admission in one of the top global universities. Team Abroad Advice works with the applicants like a family and supports them at every step. Years of experience, a skilled and dedicated team and access to a multitude of resources have enabled us to assist hundreds of Indian students to get admission in the top medical colleges in the various European countries.
Advantages of Consulting Abroad Advice