Abroad Advice Educational Consultancy Services
Davao Medical School Foundation (DMSF) – Davao, Philippines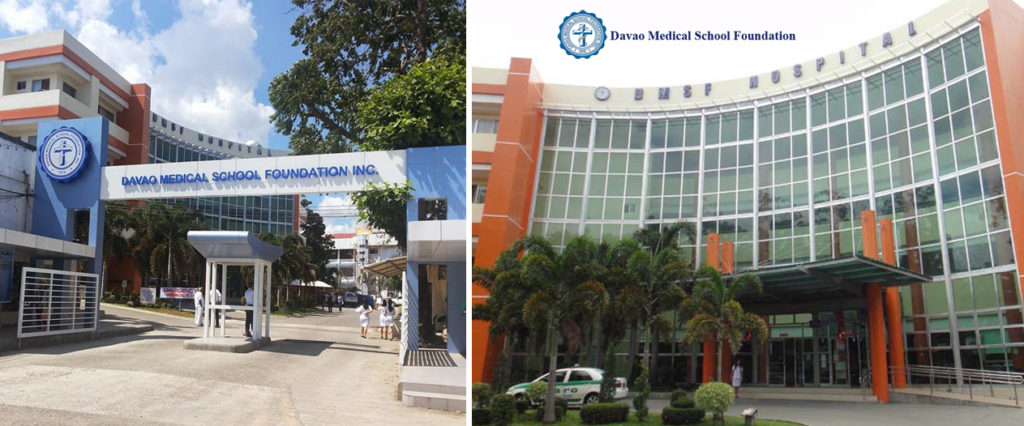 The Davao Medical School Foundation (DMSF) was established in July 1976 in response to the recognition of the lack of doctors serving rural communities and lack of specialist in urban centers of Mindanao. Its College of Medicine was thus the first such college to be set up in Mindanao and is dedicated to providing medical education and training of the highest order, leading to the provision of effective medical care in both rural and urban communities.
A consortium, the members of which are the Ateneo de Davao University, Brokenshire Memorial Hospital, the Development of Peoples' Foundation, San Pedro Hospital and San Pedro College, operates the Foundation. It is registered with the Securities and Exchange Commission (SEC) as a non-stock, non-profit organization and is approved by the Commission on Higher Education (CHED). In addition to the College of Medicine, DMSF operates a College of Dentistry, an Institute of Primary Health Care (IPHC) and a Center for Education, Research and Development in Health (CERDH).
The school is located on a 2.5 hectare site close to the center of Davao City, which boasts of a stable climate, both in terms of its weather and its politics. There are five universities within the boundaries of the City as well as several schools and colleges. Students are affiliated to the Davao Medical Center, the Davao Doctors Hospitals , San Pedro Hospital and Brokenshire Memorial Hospital for their clinical rotations in the third and fourth years of their courses. There are some 125 Faculty members drawn from a wide range of medical specialties and the total student population of all four years of students is usually around 300.
Its unique geographic location, the peace and order, and political stability of Davao City and Region XI has made DMSF an attractive option of foreign medical students. To date there are some 20 foreign medical students at various years of schooling.
| | |
| --- | --- |
| | M.D. Physician (Undergraduate program) |
| | |
| | |
| | |
| | |
| | |
| | |
| | |
Davao Medical School Foundation, Inc., inspired by the community orientation of the Founders, commits to:
The Davao Medical School Foundation, Inc. envisions healthy communities enjoying quality life.
In the 1960's, Ateneo de Davao's President, Fr. Miguel Varela, had numerous meetings with Siliman University to form a consortium to build a medical school in Mindanao. Nothing came out of these discussions. But in 1976, Sister Manzano of San Pedro hospital approached me at the Ateneo de Davao to build a medical school. She asked the Dept. of Education for permission to do it alone but was refused since she did not have an educations institution but a hospital. The local doctors of Davao were enthusiastic about a medical school. We formed five teams to ask fifty Davao residents for a thousand pesos each.
About half of them readily wrote check for a thousand pesos. The others gave us merienda and ushered us out the door. One prospect after the merienda said we were insulting him and bid us good bye. The next day we received his check of ten thousand pesos. We also agreed that each member of the consortium which now included, San Pedro Hospital, Ateneo de Davao, Brokenshire Hospital, and Davao Development Foundation will pitch in ten thousand pesos each. Davao Medical School Someone also suggested a walk to raise funds. It was a happy walk around the city and as far I remember we raised something like ten thousand from the walk. The contribution of Brokenshire did not appear for later we found out that Brokenshire was having trouble with its union. I remember Dr. Jess de la Paz and myself going through the medical schools of Manila and the unanimous advice was not to open a hospital of our own. I remember the dean of Far Eastern University quite vehement about it for he said it sucked up all their funds. At that time there was price control for hospital and schools, that caused hospitals and schools to operate on the brink of bankruptcy.) Fr. Among Bustos of the SVD negotiated for purchase of the land. Then Marie Aboitiz of the Davao Development Foundation was able to get a grant from the Aboitiz Foundation in Cebu a grant primarily for the promotion of the Katiwala which we used for the construction of the first building.
During those early years we had no money so the doctors who taught received no salary for seven years. The result was only the top-class doctors of Davao could afford to teach without a salary. The first dean was Dr. Panuncialman. The other teachers I remember were Dr. Dela Cruz, Dr. Durban, Dr. Gantioaqui, Dr. Trining dela Paz, (during this time we lost Dr. Jess dela Paz through cancer and Fr. Among Bustos by bursting of an aneurism) and many others whose names I can not remember. My apologies. We also started a dental school under Dr. De Jesus. We received a bunch of dental chairs and X-rays which a young genius mechanic rehabilitated. In those early years, we had no student who failed the medical board exams.
We had a handful of foreign students but at present I understand that Davao Medical School has over 300 Indian students and has students placing in the top ten of the medical board exams. Some of our graduates now are the top doctors of Davao and even of Manila. But more remarkable is that our graduates take care of the medical needs of many towns of Mindanao. This is to a great part through the help of Nellie Kellogg Van Schaick Foundation who gave generous grants for scholarships. Atty. Barassi its regent in charge in Arizona met Dr. Jess de la Paz in the airport and they found they needed each other. Miss Nelly Kellogg van Schaick left all her money for the education of Filipino youth to become medical doctors. She had arrived a young lady as the daughter of chief medical officer of Gen. Arthur MacArthur and married Lt. van Schaick who later became commanding officer of Fort Stotsenberg which later became part of Clark Field in Central Luzon. She was interned here in Sto. Tomas and was grateful for the efforts of her Filipino friends to help them during concentration camp.
Why choose Abroad Advice for MBBS ?
We at Abroad Advice are one of the best record holder education consultants in India. We have a team of expert consultants who offer well-researched assistance and comprehensive counselling for you to make a bright career in the field of Medicine. Abroad Advice has several centers across the subcontinent, and each one follows the uniformly structured way of providing excellent results that ensure a satisfactory experience for our valuable clients. We at Abroad Advice have the experience and resources to ensure you get access to everything that you may require for an MBBS admission in one of the top global universities. Team Abroad Advice works with the applicants like a family and supports them at every step. Years of experience, a skilled and dedicated team and access to a multitude of resources have enabled us to assist hundreds of Indian students to get admission in the top medical colleges in the various European countries.
Advantages of Consulting Abroad Advice