Abroad Advice Educational Consultancy Services
Kyrgyzstan State Medical Academy, Bishkek, Kyrgyzstan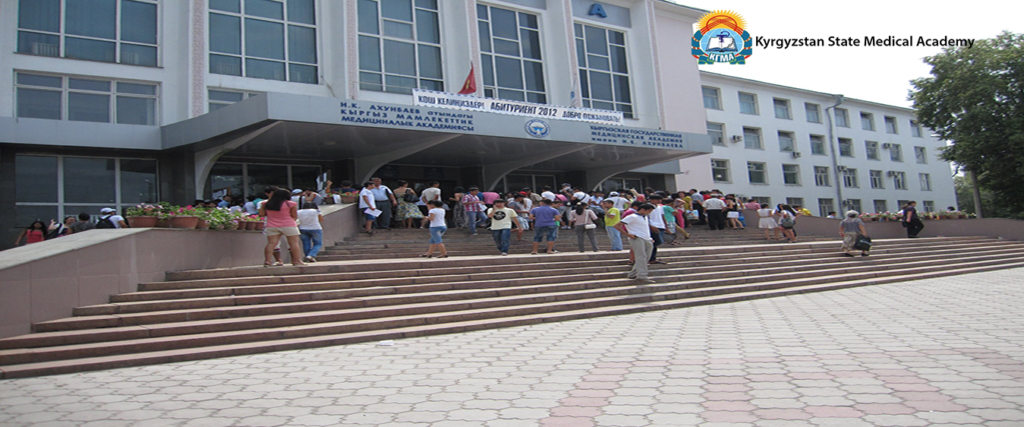 Academic Strength & Environment
Kyrgyzstan State Medical Academy
 is one of the finest MCI approved government universities for medical studies to study MBBS in Kyrgyzstan. 
Kyrgyzstan State Medical Academy
 ranking is a B+ grade university offering low-cost medicine program. Kyrgyz state medical academy admission KSMA process goes as follows. There are few direct representatives in India appointed by the university while others are sub-agents of the university. The students and the parents should always choose the official education consultants having a certificate of representation from the university to ensure proper guidance and direct admission to Kyrgyz State Medical Academy or Academy and travel services.
About Bishkek City,Kyrgyzstan
Kyrgyz state medical academy is situated in the capital city namely Bishkek. Bishkek Kyrgyzstan medical university offers a very high standard of medical education. Hence, Kyrgyzstan medical academy Bishkek offers a good campus and off campus life. There is another advantage of studying in Kyrgyzstan medical university is the affordable cost of education and housing for international students.
Our CEO has personally visited the city and taken the round of the city on a holiday there. If you wish to see it, you may check it out. A guided tour of Bishkek city!.
M.D. Physician
(Undergraduate program)
Why Choose MBBS at Kyrgyzstan State Medical Academy
Kyrgyz state medical academy official website trends all the universities offering programs to study MBBS in Kyrgyzstan. This university is the most popular since it has around 75 years of teaching experience. Indian Food is available for the hundreds of Indian students at a very low cost of USD 100 per month. MCI Screening Test coaching is available with the students to ensure good results for passing the test. OSH state university, medical faculty is another accredited and recognized by the Ministry of Education and Science and Ministry of Public health of the Kyrgyz republic. But it offers the much lower quality of education as compared to KSMA.
Kyrgyz state medical academy wiki reports state that more than 12,000 students are studying in Kyrgyzstan State from around the world. i.k Akhunbaev Kyrgyz state medical academy faculty of general medicine have actively involved in the anti-stress program for the rehabilitation of victims. It also won the first place at the international Olympiad in Novosibirsk.
The lowest cost medical programs for Indian students is available at MBBS in Kyrgyzstan. At the total cost of below Rs. 12.00 Lacs including the fees structure and hostel accommodation. The Kyrgyzstan MBBS program can be completed within 6 years. Basically, totally 5 MCI recognized medical colleges in Kyrgyzstan are available. Another upcoming medical institution namely IMI Academy is expected to get the MCI approval very soon. In earlier days, the Kyrgyzstan was a part of former USSR. Further, it split from modern Russia in 1991.
The Kyrgyzstan is sandwiched between of China and Kazakhstan. The Indian students feel comfortable in Kyrgyzstan. Because the weather is almost similar to colder Indian cities in North India. Also, the cost of living is slightly lesser than India. For Indian students who wish to study MBBS abroad must definitely consider choosing a top university from the Kyrgyzstan medical university list. There is a very small list of MCI recognized medical colleges in Kyrgyzstan. In comparison with MBBS in Ukraine or MBBS in Russia, MBBS in Kyrgyzstan is more economical for students who want to pursue their MBBS in abroad. The MBBS fee in Kyrgyzstan is very affordable to Indian students and is considered to be one of the few countries who offer MBBS with less fees in the world.
The main religion of the people of Kyrgyzstan is Islam. There are around 83% of the population follows Muslim religion. However, the people follow the Russian culture. It culturally accepts Indian students from all the religion go to study MBBS in Kyrgyzstan. Studying at any top MBBS college in Kyrgyzstan would assure students a good medical career ahead. Just like the Russian MBBS degree in India is valuable, the MBBS degree from Kyrgyzstan is also highly valued in India. However, it is important to study at the oldest and top-ranked Kyrgyzstan medical college – Kyrgyzstan State Medical Academy. This university is based in the capital city of Bishkek. The CEO of MOKSH, Mr. Dhananjay Shah had visited the city and various medical universities in Kyrgyzstan.
Why choose Abroad Advice for MBBS ?
We at Abroad Advice are one of the best record holder education consultants in India. We have a team of expert consultants who offer well-researched assistance and comprehensive counselling for you to make a bright career in the field of Medicine. Abroad Advice has several centers across the subcontinent, and each one follows the uniformly structured way of providing excellent results that ensure a satisfactory experience for our valuable clients. We at Abroad Advice have the experience and resources to ensure you get access to everything that you may require for an MBBS admission in one of the top global universities. Team Abroad Advice works with the applicants like a family and supports them at every step. Years of experience, a skilled and dedicated team and access to a multitude of resources have enabled us to assist hundreds of Indian students to get admission in the top medical colleges in the various European countries.
Advantages of Consulting Abroad Advice