Abroad Advice Educational Consultancy Services
Kazakh National Medical University, Almaty, Kazakhstan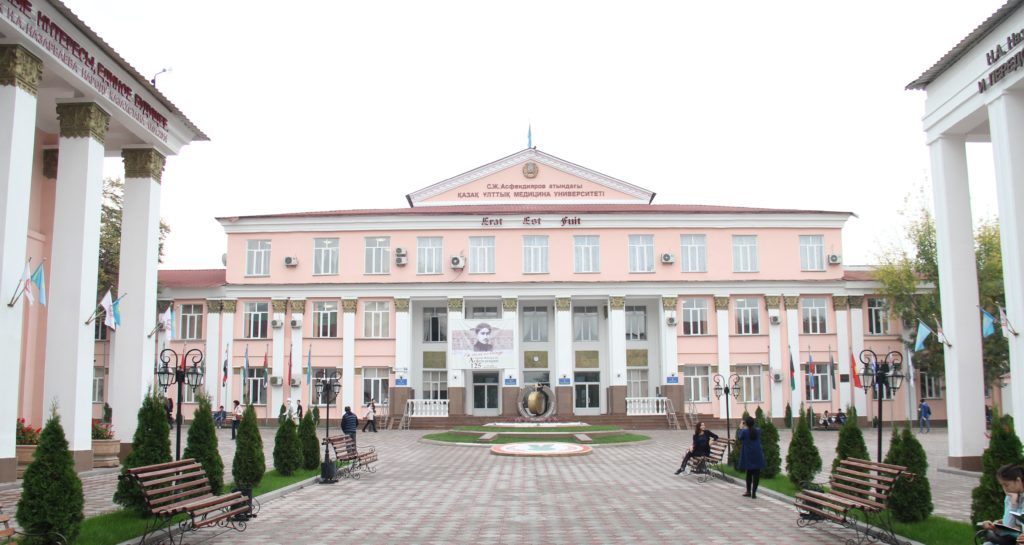 Kazakh National Medical University is a university in Almaty, Kazakhstan. It is the no.1 medical institute in all of Kazakhstan. Many of Kazakhstan's leading physicians are affiliated with the university. It is dedicated to S.D. Asfendiyarov who was the first rector when the university was established in 1931. In 2001, the government classified it as a "national" university. There are more than 11000 students, PhD students study at KazNMU, and there are more than 1500 faculty members working at KazNMU, including more than 200 doctors of science, 130 professors, more than 500 candidates of science and 15-laureates of State prizes.
History of Kazakh National Medical University named after S.D. Asfendiyarov
In 1930 by RSFSR SP council's decision the first institute in Kazakhstan was founded. The first rector was S.D.Asfendiyarov, a graduating-student of Leningrad Military Medical Academy.
For great services and people's public health development the medical institute was awarded the Order of the Red Banner of Labour in April of 1981.
In 2001 Kazakh State medical university named after S.D.Asfendiyarov was awarded the high national status of the university.
M.D. Physician
(Undergraduate program)
Providence of a society with harmonically developed specialists of high and post-diploma education, presenting new knowledge in medicine and pharmacy, rendering ethic, highly qualified medical service and strongly and deeply integrated into the world's community.
Creation of effective model of competitive, innovation focused university, rendering highly qualified medical education, up-date scientific investigations on urgent problems of Public health, implemented in practical health care at a medical services market.
S.D. Asfendiyarov KAZNMU view:
Leader in training competitive specialists with high and post-diploma education of the international level.
Scientific research centre of development, scientific and innovative potential in the sphere of medical education and science;
Center of united informational field forming, providing the unity of science, education and practice, keeping and augmenting scientific traditions with the following development of national scientific school.
Clinical centre of advanced prophylaxis technologies, diagnostics, treatment and rehabilitation of patients.
Leader in the system of continuous professional education.
At the university there are 76 departments and 7 courses at 6 faculties (therapeutic, pediatric, public health, management in public health and pharmacy, general medicine, professional training and 2 faculties (pharmaceutical and stomatological) departments were transformed into modules (pharmaceutical faculty 5 modules, stomatological 9 modules)
The university has introduced and certified the System of Quality Management in the field of "Development and educational services rendering in the sphere of high professional education in medicine; advanced medical high school studies of doctors and teachers; rendering therapeutic diagnostic services; carrying on scientific investigations in medicine" (Certificate SGS (Sweden) № HU 11/5879 of June, 20,2011).
The control of System of Quality Management is being observed by 40 certified internal auditors including 5 students.
Management is realized through Supervisory board, Academic and Quality Councils weekly meetings of University administration, monthly meetings of department heads and students active bodies. For effective integration with University partners new innovative and educational consortium "Corporate University" has been created.
From September 2011 University developed the program of Innovative development for 2011-2014 years.
Professorial teaching staff of KAZNMU accounts 1712 staff units, of them there are 4 academicians of RK National academy of sciences, 2 persons of Russian academy of sciences, 10 ones corresponding members of RK National academy of sciences, 20 ones of preventive medicine academy and academy of natural sciences, 15 ones of international academies, 159 Doctors of medicine, 430 candidates of sciences, 15 laureates of State premium.
Visiting professors are being involved into educational process. Recruiting department is now working within the University.
For realizing Strategy of the university development and the Program of the personnel development during 2010-2011. The department of human resources development carried on training for PTS with 10 years work experience on the below given cycles of qualification increase:
H.S. Nasybullin pedagogical skills school was established in accordance with the University organizational structure, approved by the Academic Council and operates under the University Article.
Education in H.S. Nasybullin pedagogical skills school was:
60% – professional development for teachers-in-training
40% – professional development for teachers of medical schools in pedagogy.
The main activity objective is in tasks and functions realization, which are assigned to the "School" to train professional and competent professionals, who represent the reserve. The main "School" objectives are:
timely response to the University needs in research and personnel teaching, through training and retention at the University of highly skilled workers, which are capable of ensuring the implementation of strategic objectives and aims set by the University . Create conditions for the formation and development of young professional competence of the teaching staff.
The curriculum in the "School" includes the study of the following modules:
Module 1 – for teachers-in-training.
Module 2 – for the teachers of medical universities.
Module 3 – seminars, trainings and workshops.
Module 4 – program for advisors
For all University employees involvement into the process of University perfection Academic Council has made a decision "About implementation of Kaizen strategy". According to this program every University employee can offer the ways to make the University a better place and be awarded financially for this idea.
"Kaizen" program working group has reviewed 36 ideas, 6 of them were implemented successfully, 5 are ongoing.About the University.
The decision to open medical institute in Alma-Ata was adopted Decree of People's Commissars of the RSFSR of 10 July 1930 "Network, structure, and a contingent of admission to higher education authorities of the RSFSR administered to the 1930/1931 year." The annex to this Regulation including a list of all the other universities in the country has a record: " Alma-Ata. Institute of Medicine. Medical faculty. Admission: winter 1930/1931 year – 100 people. " This is the first administrative document on the issue of opening a medical institution in Kazakhstan.
Order of the People's Commissariat for KASSR number 260 of November 30, 1930 the director of the medical institute was Sanjar Dzhafarovich Asfendiyarov , who graduated in 1912 from the Military Medical Academy in St. Petersburg.
Institute staff in 1931 was as follows: 5 professors, 4 associate professors, 13 assistants and 2 teachers. Professor: Asfendiyarov SD (Head. Dept. Of Social Sciences), Averburg VV (Head. Dept. Histology), Zakhvatkin VA (Head. Dept. Of biology) Isaev PO (Head. Department of. Morphology, Department of later. Normal Anatomy), Litvinov NN (Head. Dept. Of Chemistry).
Why choose Abroad Advice for MBBS ?
We at Abroad Advice are one of the best record holder education consultants in India. We have a team of expert consultants who offer well-researched assistance and comprehensive counselling for you to make a bright career in the field of Medicine. Abroad Advice has several centers across the subcontinent, and each one follows the uniformly structured way of providing excellent results that ensure a satisfactory experience for our valuable clients. We at Abroad Advice have the experience and resources to ensure you get access to everything that you may require for an MBBS admission in one of the top global universities. Team Abroad Advice works with the applicants like a family and supports them at every step. Years of experience, a skilled and dedicated team and access to a multitude of resources have enabled us to assist hundreds of Indian students to get admission in the top medical colleges in the various European countries.
Advantages of Consulting Abroad Advice