Abroad Advice Educational Consultancy Services
Kursk State Medical University, Russia.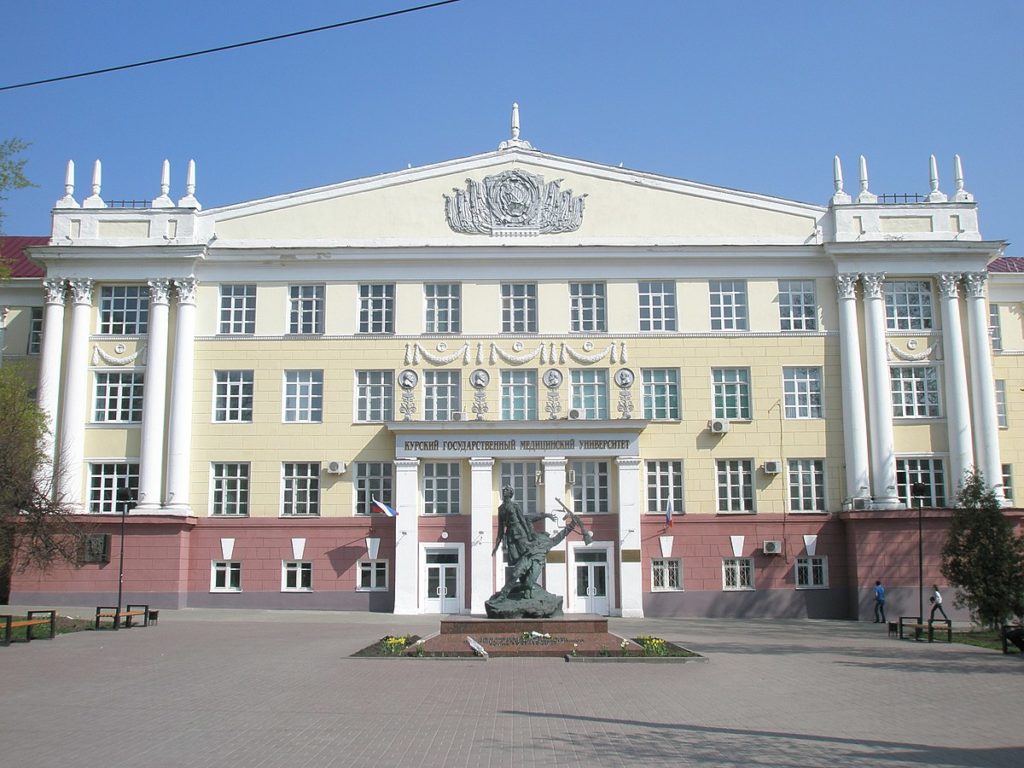 Kursk State Medical University is one of the best universities in Russia, Established in 1935.Kursk State Medical University Russia Kursk Medical University an educational, scientific, and cultural center in the Kursk region. Distance between Kursk and Moscow is 456 kilometers (283 miles) in Russia.
Kursk Medical University also has a Research Institute of Ecological Medicine as well as a consulting diagnostic polyclinic and medical institute. To date, Kursk Medical University has trained over 45,000 medical professionals across 14 faculties and 67 departments.
Kursk State Medical University has a high level of education. Up-to-date methods of teaching are adopted in the educational process and always are improved: problem lectures, lecture-dialogues, computer technologies for training, multimedia training tools, different kinds of testing, rating knowledge assessment. Great attention is paid to the practical training of doctors, pharmacists, and other specialists. Necessary skills for doctors of various majors are formed by direct contact with patients at clinical departments and during practical training. With the same purpose according to the global trends, virtual simulators and mannequins are used.
| | |
| --- | --- |
| | M.D. Physician (Undergraduate program) |
| | |
| | |
| | |
| | |
| | |
| | |
| | |
The Kursk medical University presents its scientific achievements at international exhibitions, as well as participates in international congresses. The university has a center for science and innovation and a council of young scientists. Student scientific society gives an opportunity to all interested students to engage in research work. Nowadays in scientific groups work over 1,500 students, about 300 of them are engaged in long-term studies.
Graduates of Kursk State Medical University are in demand in various fields of health care, medical science, business, and economy. University placement office monitors the views of employers about the quality of graduates. Marketing research results allow coordinating the activities of University and employers to help graduates with employment. Annually Job fairs are held for graduate students and interns.
Students' Life at Kursk State Medical University
Kursk medical university provides students with a world-class education in an environment full of new opportunities and ideas which will help to shape your future. Learning new skills, meeting new and interesting people; making friends for life; these are all a normal part of the university experience and KSMU is no exception.
With over 5,500 students studying at Kursk medical university (over 2000 of which are international students). The campus is a bustling hive of activity and a real melting pot of multicultural cooperation. From sporting events, through to the arts, Kursk is a center for innovation and culture like no other.
Students are involved in a range of activities ranging from sports through to arts, social and other intellectual pursuits and enriching activities. Campus life at KSMU has something to offer everyone, no matter what your interest.
There are many ways in which you can meet new friends here at KSMU for example by joining one of the many vibrant student societies, or creating one of your own! Our large and diverse student community makes for a very interesting environment to socialize, learn new skills and meet new people!
You will also have the opportunity to visit local historic attractions for you to visit and explore with your new friends and learn more about Russian culture and history. You could spend hours at the local cafes, shops, and museums or take a walk through one of the beautiful parks nearby.
Kursk is a city in Russia, the capital of the Kursk region, situated in the western part of central Russia, 530 km south of Moscow. It is an important cultural and religious center with a large industrial complex, a number of scientific and educational centers, a highway and railway hub.
The ancient land of Kursk is one of the spiritual centers of Orthodox Russia. The most renowned Russian monks and mystics Feodosiy Pechersky, Iosaf Belgorodsky, Serafim Sarovsky prayed here.
The City Day is celebrated in September. The climate is temperate continental. The average temperature in January is minus 6.4 degrees Celsius, in July – plus 21 degrees Celsius.
Kursk is a major industrial center: electrical engineering, instrument-making, and machine tools, machinery and equipment for agriculture, food and processing industry, production of commercial equipment, chemical fibers, rubber products, furniture, pharmaceutical production. About 30% of the industrial potential of the Kursk region is concentrated in the city.
Kursk has an international airport "Vostochny" located 7 km to the east of the city center (scheduled flights to Moscow and St. Petersburg).
Two important railway lines pass through Kursk: Moscow – Kharkiv (Ukraine) and Voronezh – Kiev (Ukraine). Kursk roads have access to the federal highway M2 "Crimea", as well as the highway A144 (Kursk – Voronezh – Saratov) and P199 (Kursk – the Ukrainian border). Public transportation is carried out mini-buses, buses, trolley buses, and trams.
Why Study MBBS at Kursk State Medical University?
Following are the advantages of studying MBBS at Kursk State Medical University:
Students have to set in the following eligibility criteria to get admission to Russia for MBBS:
Following are the steps to take admission for MBBS in Russia: