Abroad Advice Educational Consultancy Services
Omsk State Medical University, Russia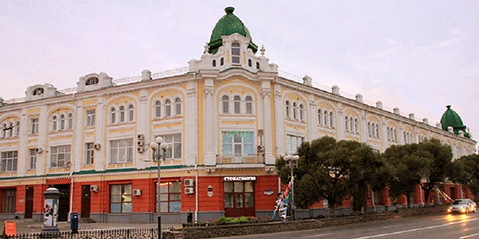 Omsk State Medical University is the school of medicine and it is located in Omsk, Russia. It was established as the Medical Faculty in the year 1920 as the Siberian Institute of Veterinary Medicine and Zoology. In the year 1921, it was transformed as the West Siberian State Medical Institute. However, in 1925, it was called as the Omsk State Medical Institute. In 1994, it was named as the Omsk State Medical Academy.
OSMA maintains a good relationship with various educational institutions in Western Europe, the United States, Japan, and other countries. There are 59 departments in this medical University. 73% of the staff members have an academic degree. About 100 MD-PhD full professors and 300 MD-PhD associate professors are working with the University.
OSMU has the largest library among the medical institutes of Russia. OSMU has over 6,00,000 collections and abundant unique publications are among them. The library comprises fully-equipped computer hall with the Internet access.
| | |
| --- | --- |
| | M.D. Physician (Undergraduate program) |
| | |
| | |
| | |
| | |
| | |
| | |
| | |
Clinical Departments and Chairs of the University are positioned in the largest municipal hospitals equipped with modern diagnostic facilities. These clinics are being headed by the great scholars of the University. With up-to-date information technologies, teaching procedures are being continuously improving. Students Scientific Society is the pride of OMSU.
Omsk State Medical University believes that the physical training is the significant part of the daily routine. It has well-equipped gyms, ski-centers, a sport and recreation center for the students.
Direct Admission for MBBS in Russia is now available in Omsk State Medical University. Contact Rus Education and apply now.
Hospital and Community Affiliations for Clinical Training.
Affiliations/ Listings/ Recognition's
The Emilio Aguinaldo College of Medicine is listed in The California Board of Medicine. Students of EAC are eligible for licensing in California – USA after complying with the relevant rules and licensing process.
Commission for Higher Education- Philippines(CHED):
Body which authorizes and regulates all Universities and Colleges of higher education in the Philippines. All Universities need to be recognized by CHED, under the Govt. of The Philippines.