Abroad Advice Educational Consultancy Services
MORDOVIA STATE UNIVERSITY, SARANSK , RUSSIA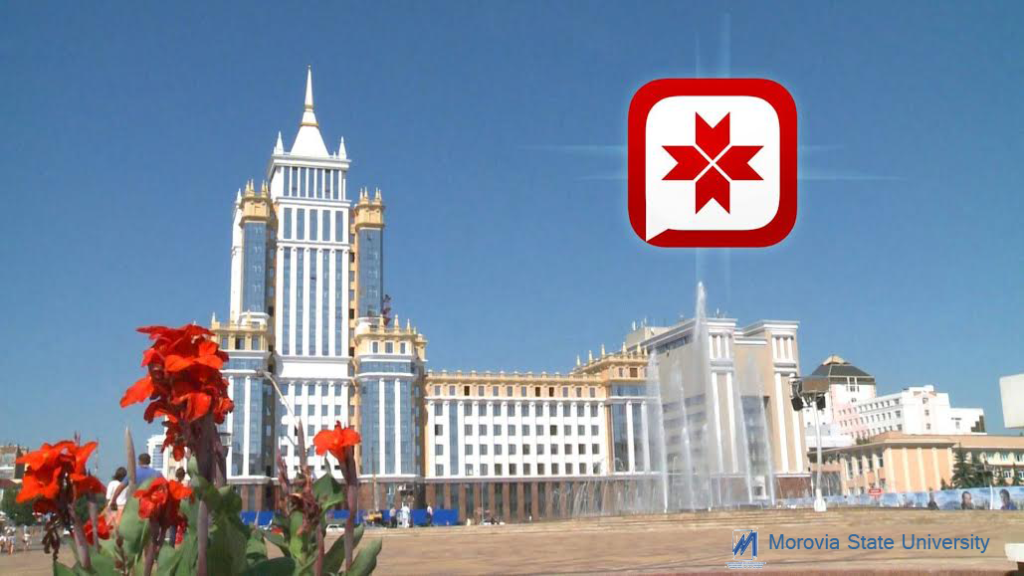 Academic Strength and Environment
N.P.Ogarev Mordovia State University now boasting a status of a National research university is a Federal state budgetary academic institution of higher education offering the whole spectrum of academic programmes for undergraduate, graduate and post graduate students; among its core activity is fundamental and applied research, further training and qualification improvement courses for teaching staff and scholars. It is the major higher education institution in the Republic. By the Federal government edict dated of 20th May 2010 Ogarev Mordovia State University was conferred a category "National research university".
Founded in 1931 as the Agronomy Pedagogical Institute it gradually expanded and granted the University status in 1957. Its appearance was a milestone in the evolution of quality education in the Republic of Mordovia. The great majority (about 75%) of eligible Mordovian students attend Ogarev Mordovia State University. This determines its pivotal role as a centre of education, research, culture and services for Mordovia and its people.
| | |
| --- | --- |
| | M.D. Physician (Undergraduate program) |
| | |
| | |
| | |
| | |
| | |
| | |
| | |
Ogarev Mordovia State University is situated in Saransk (popul. 298,000), capital of the Republic of Mordovia, 620 kilometers south east of Moscow. With its 28 academic buildings, 12 residence halls (9 for undergraduate students and 3 for graduate students and academic staff) it is active in other Mordovian towns where it has 2 filiations.
Teaching staff is of some 1.700 (13,5% of doctors, full professors and 66% of seniour lecturers).
Prospective students can choose from a variety of 133 available tracks of undergraduate and graduate study and concentration areas within full-time, part-time and evening programmes.
The University has a student population composed of over 13.000 full timers, 8.000 part timers and 240 evening students. There are also over 300 international students.
Full time curriculum covers either 4 or 5-year periods of study depending on degree programme; evening and part-time education requires 6 years.
Bachelor degrees are conferred upon completion of a 4-year period of study. Medical Institute offers 6 and 7-year programmes of study respectively.
The learning and teaching methods focus on direct contact with students through lectures, workshops and practical classes. Throughout their course students are expected to complete theoretical and practical tasks and assignments and to undertake tests and final examinations at the end of each semester.
Mordovia State University confers the following academic qualifications
Bachelor Degree Diploma (4-year programme of study);
Diploma of Higher Education (5-year programme of study);
Master Degree Diploma (2 more years after completion of a Bachelor degree programme;
Diploma of Kandidat Nauk degree/PhD 1st level (further 3 years within the chosen field of study and thesis defended upon completion of a graduate study period);
Diploma of Doctor Nauk/Doctorskaya degree (three more years of a postgraduate study after Kandidat Nauk degree culminated in presenting dissertation).
Upon successful completion of above programmes the graduates receive a diploma approved by the Russian Federal Ministry of Science and Education.
Medicine Institute is one of the leading departments of Mordovia State University in Mordovia – the largest educational, intellectual, scientific research and cultural center of Russia, largely determines the direction and pace of socio-economic, political and spiritual life of the region and country.
Faculty of Medicine opened July 1, 1967 by the Ministry of Higher and Secondary Special Education of the RSFSR № 42 dated January 17, 1967. Annual enrollment is 175 students in the specialty "General Medicine". From the earliest days of the faculty are their own history and the oldest of the department – normal anatomy, normal physiology, histology, cytology and embryology. In 1969 he began teaching clinical subjects – propaedeutics internal medicine, general surgery and other bases for the teaching of clinical disciplines and the creation of clinical departments and courses became the largest hospital of the city and country.
The first Dean was Professor GN Saraykin. In subsequent years the department was headed by Assistant Professors A. Belyakov (1968 – 1971 gg.), And VM Zaitsev (1974 – 1976 gg.), Professor VI Kireev (1976 – 1977 gg.). From 1977 to 1987. department headed by head of the department of normal anatomy, MD Professor Honored Scientist PM NM Ivanov, creator of the famous Russian anatomical museum. From 1987 to 2002 was dean of Honoured Doctor of the Russian Federation and the Republic of Mordovia, the Head of the Department of Faculty Therapy, Professor LK Fedotkina, from 2002 to 2008 – Professor, Department of Hospital Surgery, MD MD Romanov. From February 2008 to the post of director of the medical institution designated MD, Professor A. Usanova. Decision of the Academic Council of the University Faculty of Medicine was renamed the Medical Institute (2008).
The training infrastructure is represented by 20 departments, divisions practical training of students, the regional educational, scientific and medical research complex. Postgraduate and additional education department provided clinical internship, the department of clinical internship, a center of advanced medicine and retraining. Trained medical staff carry 2 academicians and a corresponding member of RAMS, 8 academicians of public and foreign academies, 36 doctors, professors and 180 candidates of sciences, associate professors, 8 – Honored Scientist of Russia and Mordovia, 7 – Honored Worker of Higher School, 13 – distinguished physicians and Russia Mordovia. Members of the Board of All-Russian scientific and technical advice and scientific societies in Russia are 46 scientists, 42 – Presidents of scientific and medical societies and public institutions of Mordovia.
The Institute of Medicine has adequate space, logistical and clinical base for training highly qualified specialists. There are four academic buildings, the class of Internet, computer and eight videoklassov, language laboratory, a library of medical literature, reading room, conference and sports facilities, ski lodge, dining room, a dormitory. Clinical departments and courses are located in major hospitals and Saransk Republic of Mordovia.
Training of physicians in three specialties is – "Medicine" and "Pediatrics", in 2011, the specialty "Pharmacy". Currently, the institute has students from different regions of the Russian Federation, Armenia, Ukraine, Uzbekistan, Turkmenistan, Azerbaijan, Yemen, Germany, Pakistan, Egypt, India, Sri Lanka, Syria, Cameroon, Sudan and other institutions have recognized the World Directory of Medical schools (Geneva), The World of Learning (Fortysecond Edition) (United Kingdom & Ireland), accredited by the Medical Council of Sri Lanka. The quality and level of special training for students – medical department of the university is one of the best medical schools / institutions in Russia. Our graduates are working adequately in many regions of Russia and the United States, Britain, Germany, Israel, Guinea, Yemen, Australia, Tunisia, CIS, etc.
The Institute implemented a system of continuing medical education (clinical internship, residency, postgraduate study, training and retraining of doctors). Training is conducted in a clinical internship in 22 specialties, clinical residency – to 25 specialties in graduate school – in 18 specialties, training and retraining – to education programs Continuing Professional Education 24 specialties. Total enrollment is approximately 2000, clinical interns – 150 medical residents – 150 graduate students – 70, students training center and retraining of doctors – more than 300 professionals. Every year in the post-graduate education are trained about 50 foreign specialists (specialties: cardiology, obstetrics and gynecology, dermatovenereology, otolaryngology, ophthalmology, functional diagnostics, surgery, neurology, internal medicine, traumatology and orthopedics, urology, etc.).
Scientific innovation infrastructure includes laboratories of departments and courses, the central research laboratory, vivarium, an anatomical museum, museums organopatologii and the History of Medicine, 14 research centers and other staff of the institute and students participate in the development and implementation of federal, regional and sectoral, interagency and international programs. The pride of the institute are schools of thought, leading the development of the efferent and quantum hematherapy in Surgery (Prof. JH Piksin) operational Combustiology and Critical Care Medicine (Prof. N. Belyaev) Pharmacology (Prof. VI Inchina) ; neuromorphology (Prof. M. Ivanov).
Manpower training in their own graduate is 18, and doctoral – to 4 specialties. Since 1993 the Institute has specialized tips for doctoral and master's theses:
D 212.117.01 – in the field 03/03/04 – Cell biology, cytology, histology (biological sciences, medical sciences) and 14/03/01 – Human Anatomy (medical sciences);
D 212.117.08 – 01/14/17 specialties – Surgery (medical sciences) 03/14/03 – Physiopathology (medical sciences) and 14/03/06 – Pharmacology, Clinical Pharmacology (medical sciences).
The medical-diagnostic and clinical staff work done on the basis of medical – diagnostic counseling center, 27 national and urban clinical health care settings.
Students' Science is one of the priorities of the institute. Its diverse forms: participation in scientific circles in the theoretical and clinical departments, publication of scientific articles, making presentations at international and Russian scientific meetings, conferences, university-wide "Ogarevo reading" and young scientists, development and protection of research papers. Traditionally, medical students are actively involved in the All-Russia competitions of scientific works, and in 2004, rated a student's science department took the 4th place among all the medical schools of the country and a place among the medical schools of the Volga. Young scientists and physicians published scientific almanac "Medical foundation of life in normal and pathological experiment", which annex to the journal "Bulletin of the University of Mordovia."
Underpinned by the modern system of research, development and innovative structures Mordovia State University is currently one of the largest science centres in Russia, conducting research in 28 fields of science.
The university is a recognised centre for training scientific and teaching staff: there are 14 doctoral dissertation boards in 27 specialisation areas. The graduate studies are available in 93 specialisation areas within 18 fields of science and the post-graduate (doctoral) studies in 18 specialisation areas within 10 fields. The university, like other 15 universities in Russia, offers a degree programme for applicants, wishing to occupy administrative posts in federal and regional government authorities in the country.
Mordovia State University strives to use a multi-channel fund-raising for research activity. The average annual funding allocated for the said activity has comprised 360 million rubles over the past three years. The university is a leader in a few federal and 20 regional scientific program, which allow to realise the full cycle of innovative research in creating scientific, technical and educational products. Like many other academic establishments Mordovia State University is seeking external financial support. In 2012 three applicants won Russian President's Grants for Young Russian Scholars.
The university successfully integrates with leading research centres and scientific schools in Russia and abroad universities of UK, Germany, Hungary, US, Sweden, Finland and some other countries by implementing joint projects and programmes. One of the most internationalized field of research is Finno-ugric Philology/Linguistics. There is an Interregional Science Centre for Finno-Ugric Nations in the Volga Region that coordinates activities in this direction. There are 10 regional offices of public Russian and international academies of sciences at the University.
In 2012 Mordovia State University has planned to hold 70 international and Russian scientific conferences, schools and seminars. Leading research groups make an important contribution to the generation of new knowledge in natural science and humanities through publication of monographs, course books, teaching aids, proceedings of conferences, encyclopedias and other academic literature for students and high school leavers.
The university publishes 6 peer-reviewed federal journals. Among them are – "Integration of Education", "Regional studies", "Bulletin of Mordovia State University" and 1 international one named "Finno-Ugric World "
Developing the infrastructure of innovative research the University has to deal with objects of intellectual property. It currently holds 127 patents in the fields of mechanical engineering, electrical engineering, power engineering, agriculture, biotechnology, medicine, etc.; there are over 40 applications for receiving industrial property rights, submitted annually to the Federal Institute of Industrial Property.
Up to 3 national academic Olympiads and competitions in various specialties are annually held for the undergraduate students by the faculties/institutes of the University. By the number of medals and diplomas, won by our students at the Russian Open Contest of Scientific Works in Natural Sciences and Humanities in 2011, Mordovia State University has taken on the leadership in the Volga Federal Region (the awards received in 17 fields of science).
Why choose Abroad Advice for MBBS ?
We at Abroad Advice are one of the best record holder education consultants in India. We have a team of expert consultants who offer well-researched assistance and comprehensive counselling for you to make a bright career in the field of Medicine. Abroad Advice has several centers across the subcontinent, and each one follows the uniformly structured way of providing excellent results that ensure a satisfactory experience for our valuable clients. We at Abroad Advice have the experience and resources to ensure you get access to everything that you may require for an MBBS admission in one of the top global universities. Team Abroad Advice works with the applicants like a family and supports them at every step. Years of experience, a skilled and dedicated team and access to a multitude of resources have enabled us to assist hundreds of Indian students to get admission in the top medical colleges in the various European countries.
Advantages of Consulting Abroad Advice