Abroad Advice Educational Consultancy Services
North Ossetian State University, Osetiya-Alaniya, Russia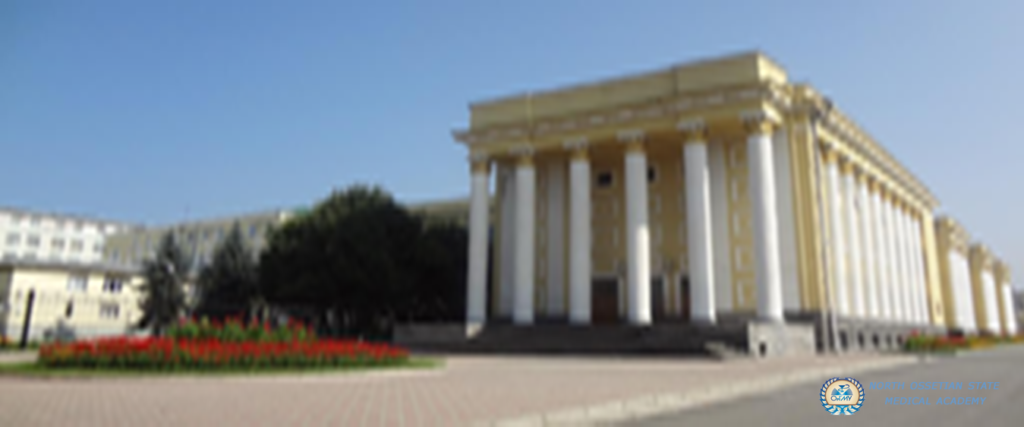 Founded in 1920, North Ossetian State University is a non-profit public higher education institution located in the small city of Vladikavkaz (population range of 250,000-499,999 inhabitants), North Ossetia-Alania Republic. Officially accredited/recognized by the Ministry of Education and Science of the Russian Federation, North Ossetian State University (NOSU) is a medium-sized (enrollment range: 9,000-9,999 students) coeducational higher education institution. North Ossetian State University (NOSU) offers courses and programs leading to officially recognized higher education degrees such as pre-bachelor degrees (i.e. certificates, diplomas, associate or foundation degrees), bachelor degrees, doctorate degrees in several areas of study. This 97 years old H.E. institution has a selective admission policy based on entrance examinations. NOSU also provides several academic and non-academic facilities and services to students including a library, sport facilities and/or activities, as well as administrative services.
North Ossetia State Medical Academy is the center of higher medical and pharmaceutical education in Vladikavkaz region of Noth Ossetia. Every year North Ossetian State Medical Academy trains more than 3000 students. North Ossetia State Medical Academy was established in 1939 in the Vladikavkaz city (formerly known Ordzhonikidze) as North Ossetia Medical Institute. In 1942 the medical institute was moved to Yerevan city due to World War II and in 1943 the institute was transferred back to Vladikavkaz. In 1974 North Ossetia Medical Institute opened the faculty of pediatrics. 1988 North Ossetia Medical Institute introduced the faculty of advance medicine. In 1993 North Ossetia Medical Institute organized the dental faculty. In 1995 North Ossetia Medical Institute received the status of medical academy. Over the past decade North Ossetia State Medical Academy staff has received more than 66 patents, registered more than 100 innovations and published 3220 scientific papers. Today North Ossetia State Medical Academy has 7 faculties, 39 departments with 470 doctoros and professors, private clinics, Central Research Laboratory, psychological and educational services, centers of practical training and testing, a modern library with electronic reading room and 21 computer classes. Till now 14300 students has been tained in North Ossetia State Medical Academy.
| | |
| --- | --- |
| | M.D. Physician (Undergraduate program) |
| | |
| | |
| | |
| | |
| | |
| | |
| | |
Russia spans from the Eastern plains of Europe to the Orientals of Asia . The country covers 17,075,400 square kilomteres, making it the largest country in the world. The official language is Russian, although there are some 100 languages spoken among the 160 ethnic groups registered to be living within Russian borders. This makes Russia an incredibly diverse country, with no one culture to guide your expectations.
Russian higher education is most famous for its superiority within the areas of science and research. It is said that over one quarter of the world's scientific literature is published in Russian – a surprisingly uniform language despite its enormous spread across country and peoples. It is also one of the six official languages of the United Nations.
The Russian Education system is largely based on the central European system, and quite similar in its structure. The system is split into four major parts – primary, secondary, higher and postgraduate education. Although the names broadly correspond to the same education types as elsewhere, there are some differences.
Secondary education in Russia is completed in 11 years instead of 12 as in many other countries. Year one to nine are obligatory. After that each student can choose one of several ways to move forward. The certificate of Basic General Education received after year nine can lead on to two more years at secondary school, which gives a Certificate of Complete Secondary Education which in turn makes the student eligible for entry into higher education. Another alternative is to pursue an associate degree at a tradesman school or college lasting three years and generally leading directly on to work .
There are three basic kinds of higher education institutions in Russia. These are Universities, Academies and Institutes. Universities offer a wide spectrum of programs on all levels of education. Academies povide higher education at all levels and conduct a large amount of research – usually specialised in one branch such as science, art or architecture. Institutes are independent parts of universities or academies offering professional education programs.
Russia has more university graduates than any other country in Europe. This is largely due to the government financing all education and higher education including living expenses during the Soviet era. There are some 519 institutions of higher education and 48 universities in Russia. Russia has historically placed much emphasis on science and technology in educations, and most of the government run institutions are specialized within this area. This is also where Russian higher education has its best reputation. To complement these traditional Russian institutions, many private institutions of higher educations have been emerging, often providing education in those areas not traditionally in focus such as economics, business and law.
Degree Structures in Russia
Higher education in Russia normally lasts between four to six years. The first four years of full time university study leads to a Bakalavr (Bachelor) degree. The completion of the course requires a research project and passing the state final exams. The Bachelor degree is awarded in all fields except medicine, where the first stage lasts for six years.
Once students have obtained their Bachelor degree, they are eligible for entry into a Specialist Diploma and Master's degree program. In Russia, this does not count as postgraduate education, as is the case in most other countries. The master degree is awarded after two years of study whereof one is a year of research including practice, preparation and definding of a thesis. In addition you must also sit the final exams.
Both Bachelor and Master degrees are relatively new. They did not exist in the Soviet system, and were introduced to conform the Russian system toward a more international standard in accordance with the Bologna Process. This change will hopefully mean a greater recognition and acceptance of Russian degrees abroad, which has been a problem for international students in the past and has kept the numbers of international students down.
Both Bachelor and Master degrees are relatively new. They did not exist in the Soviet system, and were introduced to conform the Russian system toward a more international standard in accordance with the Bologna Process. This change will hopefully mean a greater recognition and acceptance of Russian degrees abroad, which has been a problem for international students in the past and has kept the numbers of international students down.
A Master's degree qualifies the student to enter postgraduate education. Postgraduate education is obtained at a university or scientific institute and is split in two parts. The first level usually results in a Kandidat nauk degree, which is a Candidate of Sciences. This first level is roughly equivalent to a Ph.D. in the United States.
Further postgraduate education (2-4 years) leads to a Doctor Nauk degree which then leads on to a Doctor degree. The latter is rarely awarded to anyone below 40 as the time between these two degrees is generally around 10 years.
All State Universities of Russia provide hostel accommodation to their students, the admission into any Russian State University provides a guarantee of accommodation placement services to all international students who receive an academic offer. There are several accommodation options for international students and it is important to consider whether you prefer an independent lifestyle or enjoy living in a community. Rooms of the hostel are fully furnished.
Rooms on campus are available to students. All hostel rooms are furnished and vary in size and number of conveniences. Dormitory rooms at any Russian State University hostel can accommodate 2 or 3 students to a room.
Living on campus gives you the opportunity to immerse yourself in campus life, allows you to meet other international students and make friends from all over the world. ABROAD EDWISE Student Services team will always be near by to help you with any problems that you may encounter.
ABROAD EDWISE provides you with the best halls of residence experience on campus in hostel buildings. The accommodation is a popular choice with international students as it is conveniently located in the campus and within 10-15 minutes' walk of most shops, canteens, and teaching buildings.
Russian Universities hostels are comfortable and safe, similar to what you might expect to find at a US or UK universities. Smoking is not permitted in the accommodation .
The International Student Building is located on campus and accommodation is offered as twin bedrooms with an en-suite shower room, TV, and internet access. You will share laundry facilities with students on your floor within the accommodation.
The accommodation is fully furnished and offers modern facilities, a healthy study environment and easily accessible campus facilities. There are also relaxation areas throughout the campus for your enjoyment.
All rooms are equipped with bed, mattress, pillow, blanket, desk, chair, heater, water heaters and suitable lighting for both study and relaxation. There are common areas where students can play and mingle. Upon the students arrival on campus, specific accommodations are assigned and after a satisfactory health report the student will be accommodated to the room which is allotted to him.
Why choose campus accommodation
The international student hostel is the best option for international students arriving in Russia, especially for the first semester.
The hostels allow wired internet access via an Ethernet cable (provided).
There is a landline telephone in your room, which requires a pre-paid telephone card (available on campus). These cards cannot be used to call internationally and even local calls will be relatively expensive. We recommend using an internet phone service (such as Skype or Wechat) for making international calls.
There are communal laundry rooms on each floor. Machines are automatic, but you will need to add your own laundry detergent.
Why choose Abroad Advice for MBBS ?
We at Abroad Advice are one of the best record holder education consultants in India. We have a team of expert consultants who offer well-researched assistance and comprehensive counselling for you to make a bright career in the field of Medicine. Abroad Advice has several centers across the subcontinent, and each one follows the uniformly structured way of providing excellent results that ensure a satisfactory experience for our valuable clients. We at Abroad Advice have the experience and resources to ensure you get access to everything that you may require for an MBBS admission in one of the top global universities. Team Abroad Advice works with the applicants like a family and supports them at every step. Years of experience, a skilled and dedicated team and access to a multitude of resources have enabled us to assist hundreds of Indian students to get admission in the top medical colleges in the various European countries.
Advantages of Consulting Abroad Advice